Public Awareness Campaign PR Strategies
Public Awareness Campaign Public Relations (PACPR) is defined by our group as the effective practice of managing communications between your organization and the public you are trying to educate and/or provide awareness to.
With outdated PR strategies it is difficult to run and track the effectiveness of an Awareness Campaign. The end result is that you will feel like every time you run a Public Awareness Campaign you are having to "reinvent the wheel from scratch every time".
-
At PublicAwarenessCampaign.com we say that it is as simple as this:
"Change

how

you are running your Public Awareness Campaigns
and you will see a change in your Campaign

results

!"
If you have a question about how you can do this with an existing or future campaign simply fill out the short form above, click here to contact us while providing additional campaign details or give us a call at 404-941-6601 and we would be happy to help!
-
The following services are a few examples of components that we can create and manage for your Public Awareness Campaign: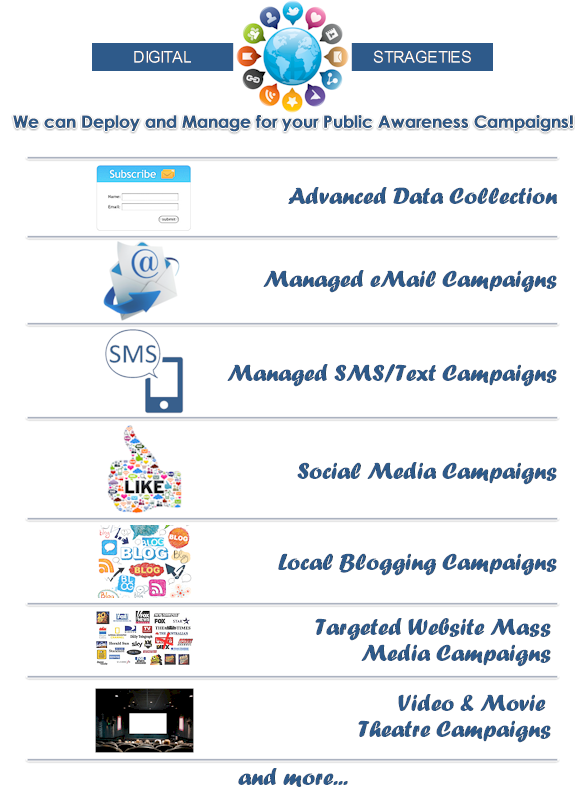 In addition to these Public Awareness Campaign services we have a whole host of à la carte services to help you to reach your campaign goals and we are creating other resources as well!
We are also actively working on:
A Public Awareness Campaign "ToolKit" for DIY campaign administrators.


-

A selection of forms that non-profits commonly use in their day-to-day operations to save you time and money!


-

A variety of Public Awareness Campaign "Campaign Style Templates" that are visual in nature and can be deployed for a variety of campaign types. This should make it easier to select local targeted, statewide or national campaign strategies.


-

Campaign "Tips & Strategies" that are tried and tested in the field as an education source that will help you to improve your campaigns so that you can focus on "Building" more successful campaigns and get better at sharing your message.
If you have a question about Public Awareness Campaign strategies, development, or management feel free to give us a call at 404-941-6601 we would love to here about your successes!